The local weather is pretty quiet for the next couple of days.  The big story is the warming temperatures that we'll have.  Today we'll rise to the low-mid 70s with partly sunny skies.  It will be pretty nice out.  Then we'll warm up tomorrow to the mid-upper 70s.  Finally on Friday we'll be solidly into the upper 70s with some 80s mixing into the area.  By the weekend we will have a cool down with highs back in the upper 60s to low 70s.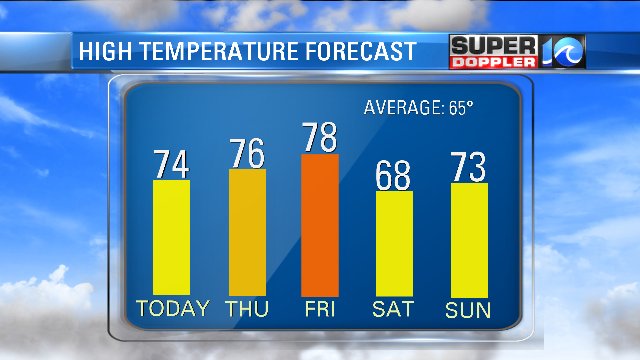 If you like warm temps, then enjoy.  We will probably warm up to the upper 70s again Monday and Tuesday of next week.  Then temps will fall again by Wednesday back to the 60s.  It will be warm on Election day, and there may be some rain.  Stay tuned for updates.
In world news… I found an article this morning about recent carbon dioxide (CO2) levels around the planet.  In a report from the World Meteorological Organization, CO2 has recently leveled off, but we are currently at levels not seen in about 800,000 years of climate data.  Global concentrations are now at 403 parts per million (ppm).  This is up from 400 ppm from last year.   In 1960 levels were closer to 300 ppm.  Emissions may have leveled off recently, but there was a strong El Nino last year.  This created droughts in some tropical areas that are highly vegetated.  So that was a contributor to the concentrations as some carbon sinks were reduced.  Also, deforestation and land usage are also big factors.  This as global temperatures continue to rise.  Here is the full article. Global CO2 levels.
There is a small bit of good news…A new article from the European Space Agency talks about how earlier melting of snow is helping (in one way) to reduce carbon dioxide.  In a study called SnowGlob, a group of scientists found that Spring has shifted an average of 8 days earlier in the last 36 years.  This allows more time for boreal forests to absorb CO2.  This can take in an estimated 3.7% more per decade.  A drop in the bucket, but a little good news.  Here is that article with more information: Earlier melting helps forest absorb more CO2.   
Meteorologist: Jeremy Wheeler