Yesterday evening there were some strong storms to our west and southwest over the Carolinas and Virginia. There were numerous reports of severe weather.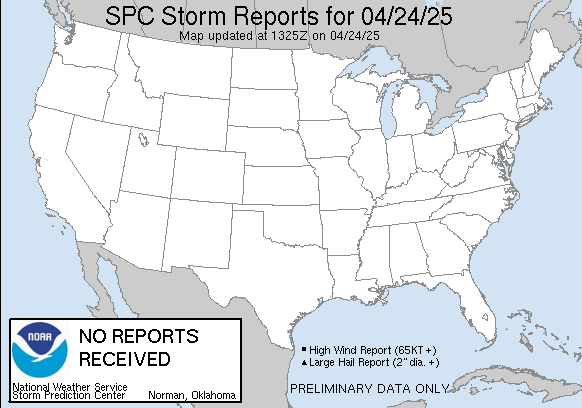 Luckily as line of storms moved east overnight, they weakened.  They basically lost the heat from yesterday.  This line was ahead of a cold front.  Now the front has moved into our region, but it is nearly stalling out.
While the front will move super slowly to the east, there is drier air moving in at the upper levels. Here is the latest Water Vapor image. It shows the moisture in the upper levels of the atmosphere.
This should limit the rain showers this afternoon.  We've picked up about a quarter to a half an inch of rain.  We could see another tenth of an inch.  Skies will gradually clear through the day.  While the front is expected to move slowly east, the really cool air will still lie back to the west.  Winds will be out of the south/southwest at 10-15mph.  So I think we'll still warm up to the upper 70s to near 80 degrees.  We will gradually dry out through the day.
Tonight the front will drift offshore.  We'll dry out, but there still could be a spotty shower or two.  While the atmosphere will dry out, there will also be a large trough (dip in the jetstream) overhead.  Low temps will drop to the 50s with a few 40s inland.  Tomorrow we'll have partly cloudy skies.  There could be a stray shower near the coast.  High temps will only be in the mid-upper 60s.  Then we'll keep dropping.  Lows will be in the 40s Wednesday night.  I wouldn't be surprised if we get a few 30s.  Then highs will only be in the low 60s on Thursday. We'll be mild and dry on Friday and Saturday.  Highs will be in the 70s.  We'll be in the upper 70s on Sunday, but rain is likely for most of the day.  This will be a similar setup to today, but the moisture will here longer.  We'll cool down again on Monday with scattered showers in the morning. Highs will be in the 60s.
In the tropics there is one weak disturbance in the western Caribbean.  It is down near central America. It will probably move north over the next couple of days.
It does have a medium chance for development, but it would likely merge with one of the many cold fronts that keep moving across the U.S. So I'm not too concerned about it just yet. We will watch it over the next few days.
Meteorologist: Jeremy Wheeler