From hot, humid, and Summery to "Ooh it's chilly out there".  That's what will happen with our weather over the next 36 hours.  Today we are still hot and humid.  High pressure is sitting just offshore.  We still have that warming southwest wind.  However, there is a very strong cold front over the central U.S. right now.
This has caused numerous tornadoes and severe storms to occur over the last 24 hours.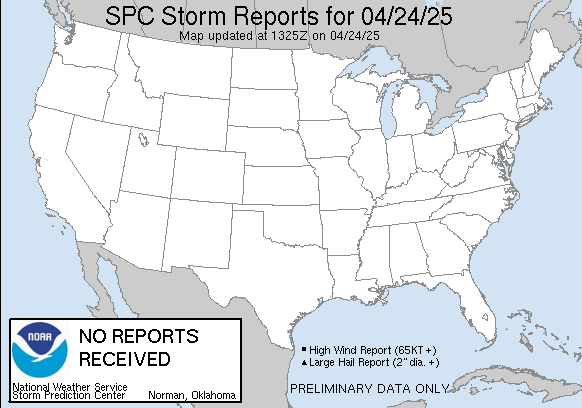 There was a high risk for tornadoes over Tornado Alley yesterday.  That verified as there were some strong tornadoes in that area.  This was caused (partially) by a strong clash of the airmasses over the central U.S.  Cold air was rushing off of the Rockies yesterday, and it rammed into a very warm/humid airmass over Texas to Kansas.  In fact there has been a large amount of snow over parts of Colorado.
That colder air is marching to the east.  However, our cool down will come more from the colder air that currently sits over the Great Lakes region.  Before it gets here today, we'll have high temperatures near 90 degrees.
Winds will run out of the southwest at 10-15mph with gusts up to 20mph.  The breeze really helped out yesterday.  It will do the same today.  We'll go from mostly sunny skies this morning to partly cloudy by noon.  During the afternoon we'll develop a few showers and storms in the region. They will be isolated at first.
This evening the showers and storms will increase.  This could impact the evening commute.
Heavy rain and gusty winds will be the main threats.  There may be some strong thunderstorms between 6pm and midnight.  This will be due to the high pressure area moving farther offshore.  Plus, the heat and humidity will create some instability.
The cold front will move in tomorrow morning, and it will drop southwest through the day.  This will create a VERY tricky forecast.  Let me show you…in the morning we'll be in the upper 60s to near 70.  By noon some temps will heat up south of the front. There could be 80s in Suffolk with upper 60s in Virginia Beach.  Take a look:
During the afternoon the front will dip southwest, and temps will fall.  Hampton Roads will likely drop to the 60s while temps drop to the 70s inland and south.
A small deviation in the speed of the front and all bets are off.  There is a high bust potential for tomorrow's temperature forecast.  Regardless, the cooler weather will move in.  It's just a matter of the timing.  There will be a few showers in the morning as the front comes through.  It won't rain all day by any means.  However, with the huge drop in temps I think we'll get at least some drizzly weather during the afternoon.  There will also be a few showers in the region.  Especially near the front.  There could be some isolated thunderstorms near the front over North Carolina.
Winds will pick up out of the northeast.  The wind could gust up to 30mph near the shore.  So keep that in mind if you are heading to any of the local weekend events.  The front will sink to our south by Saturday night.  Then it will try to lift back north as a warm front on Sunday.  High temps will push back up to the upper 70s with a few 80s south.  There may be some isolated showers as the front moves north.  We'll stay warm on Monday with showers increasing by the afternoon. Highs will be in the 80s.  We'll be dry and mild on Tuesday with highs in the 70s.
There's a ton of events this weekend.  Have fun going to any of them.  There will be some showers at times, but the chances aren't too high.  It might get a little wet and windy on Saturday, but it won't rain the whole day.
Before I go.  I found a cool site that talked about the Mount St. Helens volcano in 1980.  Specifically, it has a satellite view of Mount St. Helens when it erupted.  I never thought about being able to see it on satellite, but they had been used for a while by that point. Here is the link.  Mt. St. Helens on satellite. Very cool!
Meteorologist: Jeremy Wheeler